The Famous Snark Rocket Studios: Since 1946
Our contact information:
E-MAIL: bob AT bobcesca DOT com
Owned and operated by Bob Cesca, Snark Rocket is a media production house specializing in conceiving and overseeing the writing and production of animation, shows, movies, blogs & op-ed writing (political and otherwise), and music videos for a variety of formats including cable television, broadband, mobile, and video-on-demand. Everything "media."
PUBLISHING
Bob launched bobcesca.com in late 2004 as a daily political blog. The success of Bob's writing led to being hired as a contributor to The Huffington Post in 2005 where, for the last 10 years, his articles have been featured atop the front page several times per month, with upwards of 100,000 views each. In 2012, Bob began writing daily articles for TheDailyBanter.com, later became the managing editor for the popular site. Bob is a regular call-in guest on the nationally syndicated Stephanie Miller Show, and hosts his own podcast, The Bob & Chez Show, which is featured on iTunes, Stitcher Radio, the RELM Network and primarily at bobcesca.com.
In 2008, Bob published his first book, One Nation Under Fear.
OUR CARTOON and FILMMAKING HISTORY
Bob Cesca originally launched Camp Chaos, which eventually evolved into Snark Rocket, in early 1998 as a showcase for some of the early Flash cartoons Bob was experimenting with in his free time while working at a post-production facility in Philadelphia.
By early 1999, Camp Chaos Entertainment, Inc. had become a fully functioning Flash animation production studio where it not only produced shows for other sites like Icebox, Dreamworks' Pop.com and Eric Eisner's Romp.com, but continued to create original shows. In early 2000, Metallica's Lars Ulrich sued Napster, and Camp Chaos ripped into him with a satirical short produced in two days called Napster Bad.
The worldwide success of that cartoon and the subsequent several spin-offs allowed Camp Chaos to expand into television and music videos. Napster Bad was the first in a nine year track record of viral video successes, including Metallicops, Spongebong Hemp Pants, The Superficial Friends, Dick Vitale Goes Apeshit, and many more.
CHECK IT: Napster Bad is featured in the critically acclaimed Metallica documentary Some Kind of Monster. Good for us.
From the success of Napster Bad, Camp Chaos pitched and sold its first television series: an animated sketch comedy show called Camp Chaos Presents VH1's ILL-ustrated (view selected cartoons from ILL-ustrated here). The series aired for two successful seasons and, during its run, ILL-ustrated boasted the highest ratings on the network in the coveted M18-34 demographic and routinely finished in the top 5 in its timeslot. It migrated to MTV2 where 13 of the 25 episodes are occasionally repeated with equally strong ratings. It currently can be seen on VH1's broadband site, The V Spot, as well as on YouTube.
Meanwhile, Camp Chaos produced animated music videos for Everclear, Iron Maiden, Yes, Motley Crue, and two epic-length music videos for Meat Loaf. Watch the music video for 'The Monster Is Loose' here.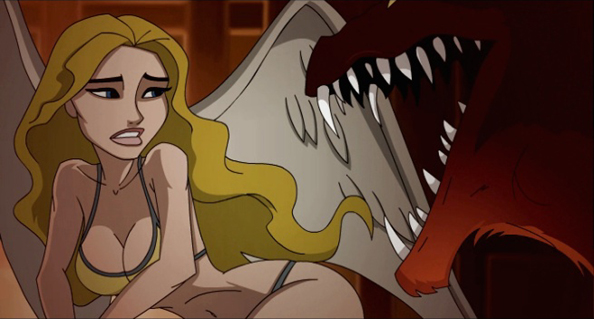 Camp Chaos's first live action project was a 30-minute documentary for Yes called Dreamtime, which appeared as a bonus feature on their YesSymphonic Live DVD. For that release, Camp Chaos also produced a live action video for the Yes song Don't Go from their Magnification album, as well as an array of animated segments for the concert film.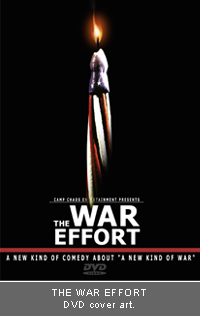 In 2001 and 2002, Camp Chaos produced an original live action mockumentary film called The War Effort. Filmed on an $8,000 budget with mostly improvised performances during the weeks and months after 9/11, the movie follows the lives of several patriotic Americans in a storytelling format not unlike The Office and Curb Your Enthusiasm. The War Effort went on to win the Audience Award at the Nodance Film Festival in Park City; the Audience and Best Picture awards at the Delta Film Festival; and was the closing night film at the Philadelphia Film Festival.
Between 2006 and 2008, we produced a roster of new shows for Heavy.com and IMG, including The Smallie Biggs Show, Dirk Greenhouse, The Superficial Friends, American Suck Countdown, Behind The Music That Sucks, numerous video game machinima shorts, and an all new Camp Chaos original Japanese anime series titled Kung Fu Jimmy Chow, created by Bob Cesca and John Christian Plummer. Check out this candid interview with Bob and John on Ain't It Cool News. (And before there was Jimmy Chow, there was this Camp Chaos anime short.)
Kung Fu Jimmy Chow and The Superficial Friends have been enormously successful for Heavy. The first 12 episodes of Jimmy Chow have achieved nearly 10 million views, with 2 million of those views on the pilot episode alone.
Snark Rocket has produced numerous original cartoons for Playboy.com, Fremantle Media's Atomic Wedgie, Mondo Media, College Humor, Break.com and JoBlo.com.
Bob Cesca and Camp Chaos have been featured on Ain't It Cool News, The Howard Stern Show, CNN, BBC, Countdown With Keith Olbermann (MSNBC), The Insider entertainment news show, Fox Sports, The Hollywood Reporter, US Weekly, Entertainment Weekly, Entrepreneur Magazine, USA Today, The Washington Post, The New York Post, Wired magazine, and many others.
In all, Camp Chaos -- and now Snark Rocket -- has produced more than 800 animated shorts. That's a lot. We're also proud to report that the legendary comic book creator Stan Lee once chastised Bob for wearing short pants to an awards ceremony.
Bob Cesca also creates CG artwork and album covers. His portfolio is located here.